Photo from: https://www.sourpussclothing.com/period-panties-shark-week.html <Their panties are cute but serve no functional benefit on periods>
Every month, I am always looking for a way to make shark week a little bit easier and more eco-friendly. I have tried a variety of cups and period panties from different sources and there are a few I would consider my go-to products. I know some of you have probably been using pads and tampons your entire lives, but those waste generators are a thing of the past. Whether you're interested in helping the environment or saving money in the long run these reusable products can help.
These have been getting a lot of publicity for the past couple of years and I must say I understand why.
The Gist
The hiphugger ($34) which is their main style is so flattering and claims to hold 2 tampons worth of blood. They come in 4 colors now I believe; they are nude, black, forest and some shade of red. The lining is always black. They are very comfortable and true to size. The material is not too thick with the inner lining feeling like a thick cotton and the outer shell is more of a smooth nylon (swimsuit-like). The lace detail is lovely but one out of the 3 hiphugger pairs I own has a tear in the lace. The sport is not that well fitting and I almost never wear them, they also don't hold as much, the boy short I find tends to ride up a lot but I still wear them more than the sport.
Performance
I can wear the hiphuggers for about 4 hours on the first or second day before I feel a bit of wetness, but I try to reserve them for days 4-7 since I don't want to be changing underwear all day, but they work great with a menstrual cup for the first few days for leak coverage. Obviously, I took their advertising with a grain of salt and did not use them to completely replace other options, but I do find them useful in my period regimen. They are a bit pricey with an average cost of $24 – $38 based on the style (I never really wear my sport style ones ($32) since they don't hold as much). Cleaning them is easy just a rinse until the blood is out and wash in the machine. Don't use fabric softener. For some reason when I cleaned them with certain detergents, they absorb the smell. Then air dry. If you want to try them for $10 off click here.
2. Padkix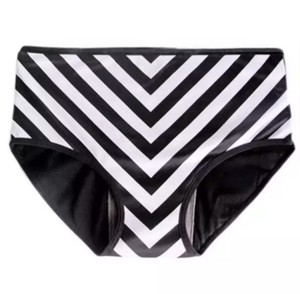 I love that Padkix started as a kickstarter and now they are successful. Buzzfeed did feature these on a Lady-like video, to watch that video click here
The Gist
Padkix are a great full on alternative to maxi pads since they are slightly cheaper than Thinx($20-$30 depending on how many you buy) and definitely can be put on all day or all night. They last way longer than constantly buying maxi pads too, I've had mine for about a year and a half. The sizing is on point, I order a small and I have a hip circumference of about 34.5 inches. The material for the gusset is very very very thick microfiber and the material for the rest of the pantie is cotton and a polyester shell, it's not super breathable due to the thickness of the padding. Since the material is so thick, if you decide to wear any tight fitting pants, there will be a noticeable line where the padding is.
Performance
I prefer to use these as my overnight so I don't wake up to a stain on my sheets. I love that they last practically all day on most of my period days. The heaviest day might need a changing or an emergency tampon after 8 hours or so, but I find it rare that that happens. I do recommend them for lazy days where you aren't going anywhere since it is just so easy to put on and free bleed. Cleaning them takes a bit longer to rinse than thinx but that is understandable since it collects far more blood. Then just throw them in the washer and I believe you can dry this one but I air dry to maintain longevity. They sell them at padkix.com.
3. Amazon Hesta Organic Cotton Period Panties
The Gist
These are about $45 for a pack of 3 so $15 each. Hesta's panties  definitely feel like cotton and are quite thin. The area with the absorbent gusset is not as elastic as I'd like. The sizing is slightly on the small side so I would order a size up. They are much cheaper than the majority of the options and I find them useful for the same reasons I found thinx useful, but based on my body type I feel that these panties are less comfortable. Their hip hugging style is just a bit low on the waist for me.
Performance
I find them useful for days 4-7 as well. They aren't completely leakproof and it's hard to know how much time you have on days 1-3. They don't advertise themselves as a replacement like Thinx or Padkix does but they are a good backup. The organic cotton feels nice and is quite breathable so I recommend them for summer use on the tail end days. It is the hardest to clean and I suggest using bar soap to clean before putting it in the wash. You could try them by clicking the link here.
4. Amazon Anigan Evawear Period Panties

Anigan makes a number of different styles with various absorbency. I believe their evawear is the most absorbent with a PUL material under the cotton. A set of 2 panties costs $36-$40 so it's about $18-$20 each depending on when it goes up and down naturally. I ordered them in a small, but I should have listened to the reviews since they run very small. The absorbent material goes all the way up the butt and it is quite sticky on your skin if you sweat. It's not very breathable so I guarantee that you will sweat too. It's kind of a shame since I prefer the softer outer shell of this pantie compared to the Thinx. A lot of people on Amazon still recommend them due to their greater capacity. They also claim to hold 2 tampons worth and I would say they last about the same as Thinx for me. If you want to try them click here, since they are a much cheaper alternative to Thinx and I believe they last longer than Hesta.
5. Amazon Anigan Stainfree Panties
I believe Anigan advertises these as mostly a leak protection when using pads. I still prefer these compared to buying pantie liners and at $12.95 a pair it's definitely worth it. They are also great for girls just starting their period and learning how to use pads and tampons. The sizing runs small similar to their evawear panties so definitely size up maybe once or twice. The material does feel a bit too synthetic so it is not too breathable, but I think it is soft and comparable to boy shorts you would buy at Ross. The pantie is virtually seamless but still noticeable due to the high waist. It's sort of like a spot day pantie. If you want you can try them with this link.
Menstrual Cups
They are becoming slightly more trendy nowadays and I think it's good to know the differences between all of them. Generally, they are great since they last up to 12 hours even on a heavy day. I have had great success with both of these cups and I recommend them for those who want a clean and nearly stress free period. I think it's also great for swimming and vigorously working out since you don't feel the "drop."
The Luna cup is a great way to get introduced to menstrual cups since they are much cheaper than the Diva cup (2 for only $17.99 vs. $40). They come in a set of 2 one small and one large. The small holds 15 mL and the large holds about 20 mL. The silicone on these is super soft and flexible and the stem is quite short. The grip rings are also quite smooth so it might be hard to tug with them, but since the cup is so soft it is easy to just grab the base of the cup and pull to release the suction. I have both and I have to say I am an advocate of menstrual cups, but I still like to be lazy and free bleed. I have seen people use this for up to 7 years so they last forever for the price of a box of tampons. You can clean them by boiling for a few minutes after each use. Click this link to give it a try.
7. LENA Cup
The lena cup was a collaboration between a California company and this young girl named Bree from Precious Stars Pads. The cup is designed for people with stronger muscles down there so the silicone is much firmer than the Luna cup. I tried this because of the company's great mission and I had some leaking with my Luna cup since it would collapse due to how soft it was. The lena cup's grip rings are quite rigid and the stem is thin and stretchy. I definitely had a learning curve when transitioning to this shape of menstrual cup. They had great customer service when I had inquiries and they offer a full refund if you don't like their product. It took a while for me to get used to this one mainly because of the rigid grip rings but it seemed to work well for day time.
So if you're looking to change your period regimen or just trying to help the planet reduce waste, it's definitely worth checking out some of these products. I personally don't buy pantie liners anymore and I never was much of a tampon person. I keep some occasional pads in the car or purse just in case but I try to reduce waste as much as I can. I hope you found this information useful and consider changing up your period situation! Comment below if you found this useful or if you have other suggestions for me to try and review, when I need to replace my panties (eventually).
Disclaimer: Amazon links are affiliated links and I might get a commission for them.