As someone who is always looking for the perfect shoe to go with any outfit and comfort, I am constantly spending my money on this addiction. One of my favorite types of shoe is the boot. I probably own at least a dozen pairs of boots and I live in ARIZONA where it's pretty warm throughout the year. Boots are just a warm hug for your feet and maybe even your calves.
It's interesting that we use the boot as a fashion statement nowadays but in history, the Inuits and Aleut tribes of Alaska wore them primarily for the function of warmth. The European boots were influenced by military shoes with thick soles and the cowboy boot became popular in the United States from the Revolutionary War.
In any case, I'm always asked "where did you get those boots?" when I'm walking down the street so I thought I would share my collection of boots and where I got them. Note: A majority I found on 6pm.com , Amazon or at Ross.
I love my pair of Uggs I got 4-5 years ago and they look sort of like the Dawna. Mine have been discontinued but they are a wedge and also do not look like traditional Uggs. I love that they are warm and classically stylish. They are on the pricier side but if you don't mind the brown pair (here) the price is slashed by nearly half. I think I got mine on sale for around $70 (it was a total steal). The suede is waterproof and since the sheepskin is antimicrobial it doesn't smell.
I got this pair at an outlet mall because I had a 20% off discount on top of their 25% off sale. This came out to about $60 for me. These boots are so light weight and comfortable I was just in love. They are cute with leggings and really wintery jackets. Not only that, but they are comfortable enough to either hike or run in. I like to wear them with long fuzzy socks to make my feet feel like they are walking on clouds.
3. Nanette Nanette Lepore Malee
Yes! There is fluffiness all over the topside on the inside too!
I linked to Amazon on the title but I personally got them from 6pm.com during their 50% off all sale items sale. I believe I paid $24. Now the price has risen on there to $69 so Amazon is cheaper I believe. Either way, don't be intimidated by the heels on these, they are really comfortable and I have actually been able to go on long walks with them. The soles are cushy and bouncy which allows my feet to feel supported. Not to sound like a broken record but I love these shoes!
I really couldn't believe it when I got these for $11 on 6pm.com. They are so adorable with a more masculine twist. I like that they are completely waterproof (not that I need that in Arizona). The unique design of the shoe is just flattering and I like that the company calls all their shoes Duck shoes because of the webbed bottom.
5. Dr. Martens Hanna Engineer Boots
I bought these a few years ago and they were a bit pricey. I just really like having shoes from well known brands that don't look like their traditional shoe and the engineer boot is one of them. These shoes are fluffy on the inside and have style on the outside. It does not scream Dr. Martens but the quality speaks for itself. I think they are discontinued but Amazon alternative sellers might still have them.
6. Clark's Black Leather Ankle Boots
I got a pair like these at Ross so I'm not sure of the exact name. These black boots go with everything and they are comfy due to the soft lining. I wear these as a go to on a daily basis. They give a slight boost to my 5'2″ frame
 and they've lasted me quite a while.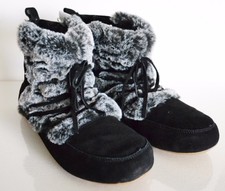 These are like my house slippers, I use them SOLELY for comfort. I found the shoes at Ross and did not look back. They offer everything from comfort to warmth to fashion. The soles are a nice rubber and without traction. I don't think they sell them anymore but you can find them on ebay (title link).
8. A2 by Aerosoles Creativity (black leather knee high boots)
I bought these at Ross too, I think they were something around $20. I like the look and the classic leather boot style will never go out of fashion. Aerosoles tends to be a great brand known for comfort. I really recommend these shoes to anyone delving into the high boot realm for a lower cost.
I got a pair of these because I thought they would look cool with more feminine outfits to make the style more edgy. After a while I started volunteering for Habitat for Humanity and I used these weekly. I also got tons of paint on mine so they look authentic.
10. Michael Antonio Margie
I really don't think they make these anymore but I thought I would just showcase them since they were another one of my steals. I got these for $17 a few years ago. You might be able to find them on ebay somewhere. They were just so adorable and I love the silver hardware. The black pair had gold hardware if I recall correctly.
Now that you all know about my various boot collection, I'd like to know about your favorite pair of boots or shoes. I probably have a few more hiding in my ottoman and shoe cabinets, but these are the main styles I would recommend to various personalities and activities.
** I used some affiliate links (underlined words), others I just placed in there for you in case you wanted to find my shoes and be my twin hehe**